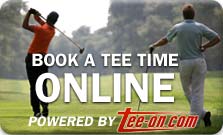 Lessons
Whether you are new to the game or maybe have just let your clubs sit in the garage a little too long & need a fresh start, a clinic or lessons might be just what you need, start now!

Join our clinics or take private lessons and learn in a fun and relaxed environment. Our clinics are designed to provide you with basic knowledge and skills as well as the rules and etiquette needed to begin playing golf. Semi-private lessons available upon request.


Interested in a lesson or clinic? REQUEST A LESSON!


Ladies Only Clinics

2-Lesson Series (1-1 1/2 hr each)

5 Large Range Buckets

$75/person
Dates and times tbas. Please preregister, max. 10/clinic