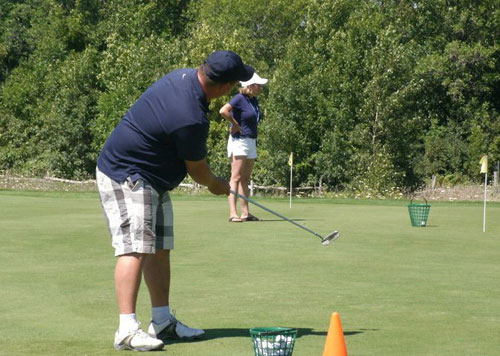 Wellington on the Lake Golf Course has various leagues that are everything from fun to competitive. Playing in a league is a great way to meet people and make sure you get out on the golf course on a regular basis. You are sure to find something that fits your needs!
MONDAY LEAGUE
A Mixed League, for those that want a little competition. Play your own ball each week and you choose if you want to play 9 or 18 holes. Each week, scorecard is handed in after the round. A handicap will be established after just one round. Play continues all season. A $45 league fee covers weekly net prizes and skins. This league did not run 2021
TUESDAY MORNINGS
Ladies
This group of Ladies play a 9 hole scramble on Tuesday mornings, tee times are assigned, between 8:05 am to 11:05 am. There is a weekly email signup, deadline is Sunday at Noon. Janice Walkey is the organizer.
TUESDAY EVENINGS
Ladies Twilight Golf League This is a fun, social Ladies League which welcomes golfers of all ability, including beginners. Sadly in 2020 and 2021 this league did not be operate however we are excited to announce it will be back for 2022. Just show up by 5pm each Tuesday - come by yourself, with a friend or two or with a foursome and we will assign you to a starting hole. Golf starts with a 5:30pm shotgun start so we all start and finish together. Each week we play a scramble format, usually with a twist. The evenings are sponsored by local businesses owned or operated by women so a few prizes are often given out, you just have to be present to win! If the forecast calls for rain, come anyway - games will be played under the tent!

WEDNESDAY MORNINGS
Duffers League is back for 2022!!
Organized by the Wellington on the Lake Residents Recreation Golf Committee, this league is a great way to meet new people. The league is a mixed seniors league, playing 9 holes, shotgun start at 9am, followed by a social gathering and BBQ. Teams are made up weekly from those who sign up for that week in the pro shop. The League runs from mid May to mid September, with a closing luncheon when the league in finished.
WEDNESDAY EVENINGS
Men's League
This league is a four man team, head to head match play, usually 18 weeks of regular play and 3 weeks of playoffs. Shot gun start at 5:00 pm the first three weeks and the last 3 weeks, otherwise 5:30 pm. Men's League is now done for this season
FRIDAY AFTERNOONS
Couples League did not operate in 2021
This popular Friday afternoon league starts with tee times at 2pm, followed by a dinner. There is a weekly sign up sheet where you can sign up for golf &/or dinner. Foursomes are made up from the couples signed up, starting in May and running through Sept., organized by Syl Richardson and Phil Quibell.
For more information about any of the leagues, contact the ProShop at (613) 399-2357