Scorecard
"My golf score seems to improve considerably when I have the scorecard!"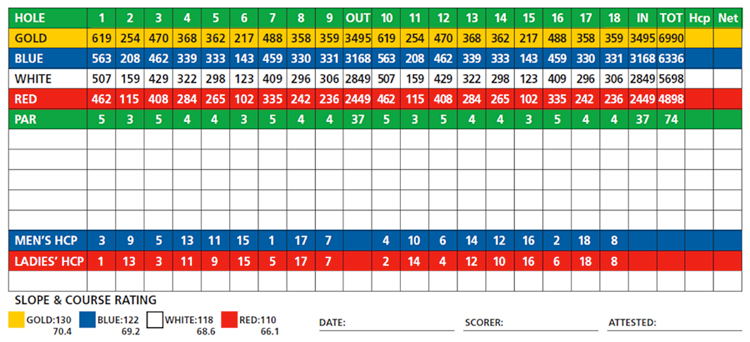 Course Rules and Conduct:
RCGA rules govern all play except as modified by the following rules.
1. Water Hazard -Yellow Stakes; Lateral Water Hazard - Red Stakes; Out of Bounds - White Stakes.
2. Ball lying on a road, pathway, near a fence, culvert, water pipe, drains or marked trees may be lifted and placed not nearer the hole. (one club length - no penalty)
3. Sign and check into the Pro Shop before heading out to the first hole.
4. Foursomes and under only. Each player must have a set of clubs.
5. Slow players obliged to allow following group to play through if there is one clear hole ahead.
6. Pull carts and riding carts must be kept off tee areas (including the range tee deck) and at least 30 ft. from edge of green.
7. Replace divots, fix ball marks and rake sand traps.
8. Wellington on the Lake Golf Course Inc. reserves the right to confiscate any illegal alcohol found on the course, resulting in the revocation of green fee privileges at our sole discretion.
Read our Alcohol Policy.
9. Dress code enforced (no cutoffs, gym shorts, sweatsuits, jeans, tank tops or halter tops.)
10. All persons on or about Wellington on the Lake Golf Course assume all risks of injury to themselves and all liabilities to others and their property for their acts while on the premises.
A Code of Conduct differs from rules in that it addresses acceptable/unacceptable behaviour.
A Code of Conduct ensure a safe, friendly and respectful place for members, visitors, marshals and staff to gather in the spirit of cooperation, relaxation, good will, fun and friendly competition.
1. It shows the utmost respect and dignity to fellow members, visitors, marshals and staff.
2. It observes proper etiquette on and off the course with honesty, integrity and good sportsmanship.
3. It acknowledges that as a family friendly environment, refraining from using obscenities and loud boisterous behaviour inappropriate for children is in good taste.
4. It is reflective of an adherence to all club rules listed above.
5. Any concerns that members, visitors, marshals and staff have are brought to the attention of management.