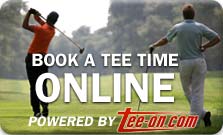 Member's Events
2018 Club Championship
The Club Championship was held over two days, Aug. 27th and 28th. After 36 holes, for the first time in our history, there was a tie for both the Ladies and Men's Club Champion.
Winning on the third playoff hole, Congratulations to our Ladies Champion, Jacquie Rogerson! Runner up: Pat Hayes
Winning on the second playoff hole, Congratulations to our Mens' Champion, Gary Maurstad! Runner up: Laurie Brown
We ask that you don't park in their reserved parking spots, they have earned them!
Ryder Cup: MondaySept. 24th, 9am Shotgun Start
This popular event is almost full but it's not too late to sign up - even if you have to put your name on the Alternate List! Sign up sheet is in the Pro Shop, on the bulletin board...Hurry, you don't want to miss out on this popular event!
Team Canada vs Team Europe SAB (Scramble, Alternate Shot, Best Ball)